The world is full of light.  Blink and you might just miss it.  It is all around us. It interacts with us.  It shows us the way and brings us information and messages which we decipher into understandings.  Its source – innumerable physically.  Some so far away we don't know if they still exist.  Some so close, the Sun, that what arrives here left only 8 minutes ago.  When we see its light, it is the past.   For at the very instant that a message of light appears to our eyes, the Sun has already moved to a new spot in the sky.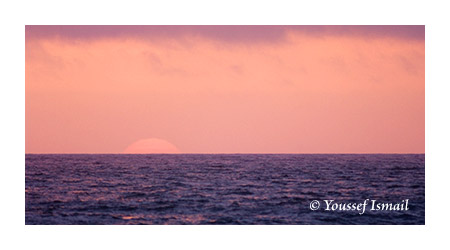 What we see in the sky is the past.  The sun on the horizon is not really there, as it has already set 8 minutes ago.  The world is full of Light, blink and you just might miss it – I did say that right?
3 Responses to "Full Of Light"
Amira on 26 Jul 2009 at 7:11 pm #

Mash-Allah! I love this! I want one of these for Zayn's room.

Youssef Ismail on 27 Jul 2009 at 11:29 pm #

Amira, Let me know when you are ready for it.

Rimsha on 30 Sep 2009 at 11:35 am #

MAshaAllah…..adorable work you have done…..
Leave a Reply