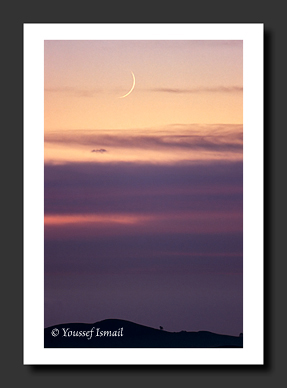 In the autumn of 1990 I found myself on a quest to find a new crescent moon.  It was in response to a mindless debate among Muslims college students nearing the end of Ramadan, the month of fasting, that year.  In spite of a 1400 year old tradition of marking the months by actually seeing a new moon, they chose instead to argue over how to mark its beginning with some other technique.
Being an outdoors person, I decided to go out a see it for myself.  It was not long before I had witnessed the birth of a new crescent moon and I was very excited.  However, my claims were not believed.  Instead of furthering an argument, I opted to just deliver proof and I found myself out there with a camera.  I soon had a photo of the moon and all debate about my sightings ended.  However, that was just the beginning for me.
Slowly I found myself upgrading photographic equipment and out on weekly if not daily jaunts into the surrounding natural areas in pursuit of not only moon photos, but also everything else in nature that I laid my eyes on.  Then in October of 1993 I became aware of the overwhelming beauty of our world upon witnessing and photographing the youngest crescent I have ever seen.  The experience was so moving that it had me questioning what my relationship with the world had become.  It was not something I could verbalize or explain to friends, but in retrospect what I was experiencing was love for Mother Earth.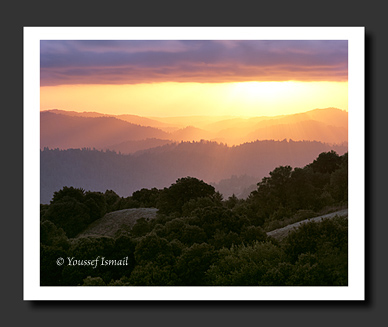 So what.  What did it matter?  I was not the only person who ever loved the great outdoors.  But then five years later it coalesced when I had heard a tradition from the Prophet Muhammad, peace be upon him, where he was reported to have said – "The Earth is your Mother, so take care of your Mother."  Now you can't take care of something that you don't love, at least not very well, and I knew what my love for the Earth finally meant and where I had to go with it.  I also realized that if the Earth was truly our mother, then maybe, just maybe, she had something to say to us about how we were treating her, the other creatures that walk on her back, as well as how we were treating ourselves.
So I listened with my heart to what my eye saw through the camera and started to share it with anyone who would lend me an ear.  Organic Light Photography soon followed to provide an outlet to share what I was learning through my artistic photographic expression and not long after www.organiclightphoto.com was started and has lead me to this web journal as a means to reach as many people as possible with a very simple message.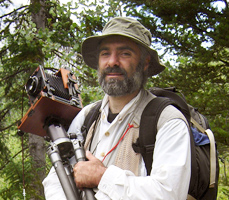 We need to live in peace with each other, the other creatures, the plants, and the Earth.  If we don't, we risk our very existence.  The Earth is continually showing us how to do this.  We only need to open our hearts to what she is saying.
My hope with this web journal, Organic Light Pan, is that I can help elucidate what the Earth is trying to teach us.  I invite you to come along with me and hopefully we can achieve peace among us all.
Peace to you all. – Youssef
2 Responses to "About"
Hasheer on 18 Jun 2016 at 4:49 pm #

Salamun Alaykum,
Dr. Youssef,

How do I get in touch with you for the moon sighting for local CA report in general andd the greater Bay Area in particular? I've also left a question, just now, on your last year's post for this year's positive sighting claimed using your signature copyright picture. Kindly confirm. Really appreciate.

Thanks and warm regards,
Hasheer
Leave a Reply