First I needed to advertise the exhibit beyond what the Silicon Valley Open Studios organization does. I printed 2500 4×6 inch post cards and mailed one to every person who ever bought a photo from me in the past or ever placed their name on my mailing list. This amounted to about 1/5th of the total number of cards printed. The rest were distributed throughout my neighborhood – about 1500 cards. That was a monumental feat – oops I mean feet, that is my feet were hating me for this. In fact every foot in my household hated me for it.
Each card had printed on back the details of the show dates and times as well as a special promotion I was running. Each card also had a unique code number that was randomly generated and randomly assigned a dollar value of $10, $25, $50 or $100! To find out what dollar amount was on that card, the holder of that card would need to come to the show. Then what ever amount came up from the database could be deducted from the purchase price of any photo, note card or calendar the patron wanted. I thought it was a pretty novel idea. In fact it worked very well. More on this below.
This year I dedcided to open my studio two of the three weekends in May when the Silicon Valley Open Studios organization sponsors and advertises this great event. On the first weekend the weather forecast was calling for rain on both days. On Friday evening it did start to rain and so instead of setting my exhibit street-fair style under canopy tents, I did an emergency house re-arrangement and moved everything inside. My living room and dining room were trasformed in to a temporary art gallery.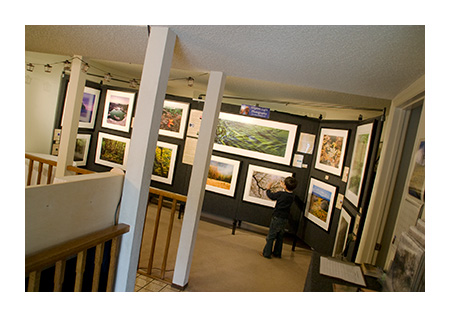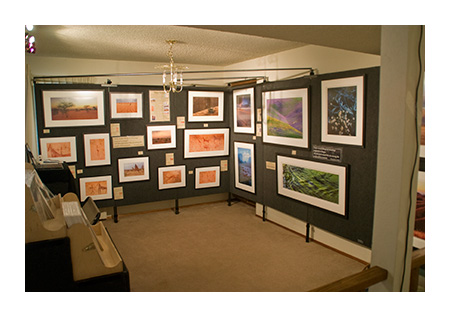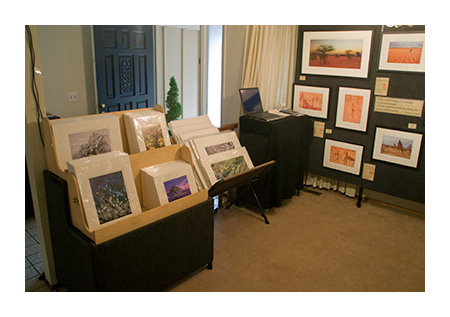 It worked out well but all was not good. Saturday morning as I was putting the final touches to the gallery, I see a City of San Jose car drive by my house. Ten minutes later its parked in front of my house and the driver is questioning me about my signs and if I want them back! He tells me that it is illegal to post any signs on city property, even on trees! And that if he sees my signs again, I will be fined! Well I had placed 15 signs out and around my neighborhood to help direct people to the exhibit, kind of like a bread trail of sorts. He pulls 6 signs from his back seat of his car, gives them to me, and leaves. Well that left 9 signs out and about and fearing getting in trouble I went out and collected the rest. I then placed two signs on my truck and left it at one end of my block and two more signs on my wifes car and placed it on the other end of my block, it was better than nothing and at least now the signs were not on city prpoerty. However, I felt like this year's exhibit was going to be a bust – rain and NO SIGNS.
Well it turned out that every sale I made that first weekend came from patrons and neighborhood folks that had one of my promotion cards!
Come the second weekend, I borrowed some cars and parked them in various locations throughout the neighbor hood with those great big yellow signs directing people to the exhibit. Now this time instead of rain, we had temperatures from 94 degrees on Saturday to 102 degrees on Sunday and very little wind! Ouch! And of course this time I did set up the exhibit street-fair style in my driveway. You just can never win sometimes. But again except for one sale, all those who made a purchase did so because they had a promotion card.
All in all, over the two weekends, this year's Open Studio turned out to be one of my all time highest grossing exhibits. So a BIG Thank You to all those who came by. You truly made this year's effort worthwhile, and you are definitely appreciated and this will not go un-rewarded in the future. Just wait and see.
Well it is finally over. The 2009 Open Studio exhibit and sale is closed – for now anyway. It was an exciting couple of months getting ready for this year's show. I had a somewhat of a slow start, but really ramped up the preparations in the last month.
One Response to "Open Studio Closes"
FredJouldd on 28 May 2009 at 3:18 pm #

Thanks, good article.
Leave a Reply