In the early hours of August 16, 2020 an unusual weather phenomena took place in the Bay Area of Northern California. A dry thunder storm moved through and over the next day and a half more that 12,000 lightning strikes sparked over 615 separate fires in the state. One would never have thought such a violent storm was on its way given the calm quite serenity that came just prior to sunset.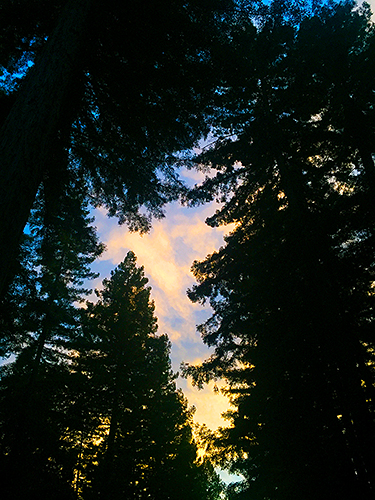 The following day 5 spot fires along the peninsula were actively burning and within one day those five spot fires became one big fire burning north into San Mateo county as well as south in to Santa Cruz county called the CZULightningComplex Fire. It was burning in wild lands that I had spent much time in.
From when I first arrived in the Bay Area back in 1990, I found myself wandering the Santa Cruz Mountains in both of those counties amid the old growth redwoods, sloshing around in the many creeks, and sitting atop the many ridge lines just soaking in the view, the serenity, and the sublimity of what the these mountains are. I always dreamed how nice it would be to live deep in these mountains, never really thinking that such a dream would be a reality. Fast forward 25 years I find myself living with my wife and children in a home we purchased literally among the redwoods. Truly a dream come true.
However, following that dry lightning storm on August 16th, the fires that broke out became very serious. Tuesday night on August 18th, the smell of smoke was very thick and safety alerts were popping up on my phone indicating that a fire was very close to home. With the help of my son, we roamed the neighborhood searching for any fire and met up with many mountain neighbors doing the same. No fire was ever found in our immediate area. By August 19th, just three days later, as seen from a ridge near my home, and possibly 10 to 13 miles away, the mountains that I so loved and grew with, were seriously on fire.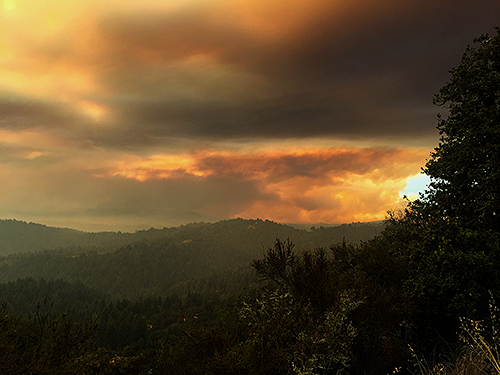 By the late afternoon the smoke from that fire had again reached the skies over our house and the smell of smoke was strong as it settled into the canyons in our area. Reports were coming in that communities to the west of us were receiving evacuation warnings as the fire had grown to 25,000 acres in 2 days! Evacuations were spoken of and we decided that we should start packing our cars with necessary items if we needed to bug out.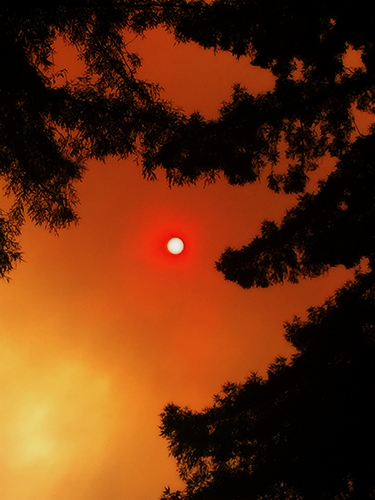 By 6 am on Thursday morning August 19th, our area CRZ-E019 was put on an evacuation warning and the areas just west of us, parts of Zayante Canyon were put on immediate and mandatory evacuation orders. The fire had grown to about 40,000 acres and seemed to be growing out of control with only 591 fire fighters trying to stop it! By 6 pm we had pretty much packed what we needed and had taken our 13 hens to a friend's house who offered to watch them for us earlier that morning, we had decided to button up our home and we left. We drove back down to Campbell, where we lived for 13 years and where family had offered to us accommodations to hold up in until the evacuation orders were lifted. While we were unloading our things, the mandatory evacuation order for our zone had come through at 7 pm. We were now in the endgame and all we could do was wait and monitor the fire growth.
By Saturday, August 22nd, news was starting to surface that Big Basin State Park was no longer in existence. The historic park facilities were burned to the ground. Some photos had made it on to social media and it was then that I realized, many of the canyons and places that I spent so much time in might all have been decimated by this fire. My thoughts about Big Basin burning greatly saddened me and I started wondering about some of the trees in the park. One in particular is over 2000 years old and was affectionately known as the Father of the Forest. A tree whose trunk at its base measures in at 70 feet in circumference and some 22 feet across. Looking up it stretched to 250 feet above the forest floor. No single photograph could capture its massive size. I wondered if the Father of the Forest was still standing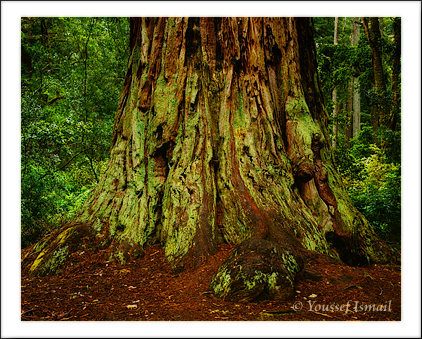 I started wondering about the other places in the Santa Cruz mountains that I had visited and photographed for more than 25 years and had come to the realization that most of those areas are now gone as well. Even though I did pack my computers containing all the photographs of Organic Light Photography, I did not have the means to set them up properly so I went through my website and grabbed a collection of photographs that I have made wandering about Big Basin Redwoods and the surrounding sister lands and created the following video in memorium of Big Basin, a park that has been altered permanently.
After creating this homage to an area of the Santa Cruz mountains that is very dear to me, I have decided that I will be extending my support to Big Basin State Park and the other parks and public spaces surrounding Big Basin through the sale of the photos shown in the video. I will make a sizable donation from each sale to the restoration efforts that will surely follow the extinguishing of the fire. Since I am only an individual photographer and not a recognized organization, I will be reaching out to California State Parks as well as the Sempervirens Fund to find out how I can work with them to offer these photographs as a means to help raising the funds towards restoration. As soon as the details are worked out I will inform you all.
In the time being, I wait to see if I will have a home to return to. I know the firefighters are doing their best to extinguish this fire, and my hopes and prayers are with them to get the job done. I encourage everyone to put your support behind them as they contend with the 615 fires now actively burning in the California.
Until next time, Peace.