On Friday April 1st, 2022 I went out with my family to seek out the new crescent moon that would mark the beginning of Ramadan this year. The probability forecast was not favorable for a naked-eye sighting, but since April 1st was the 29th day of Sha'baan, the month preceding Ramadan, it was obligatory to go out and search. This is what we saw.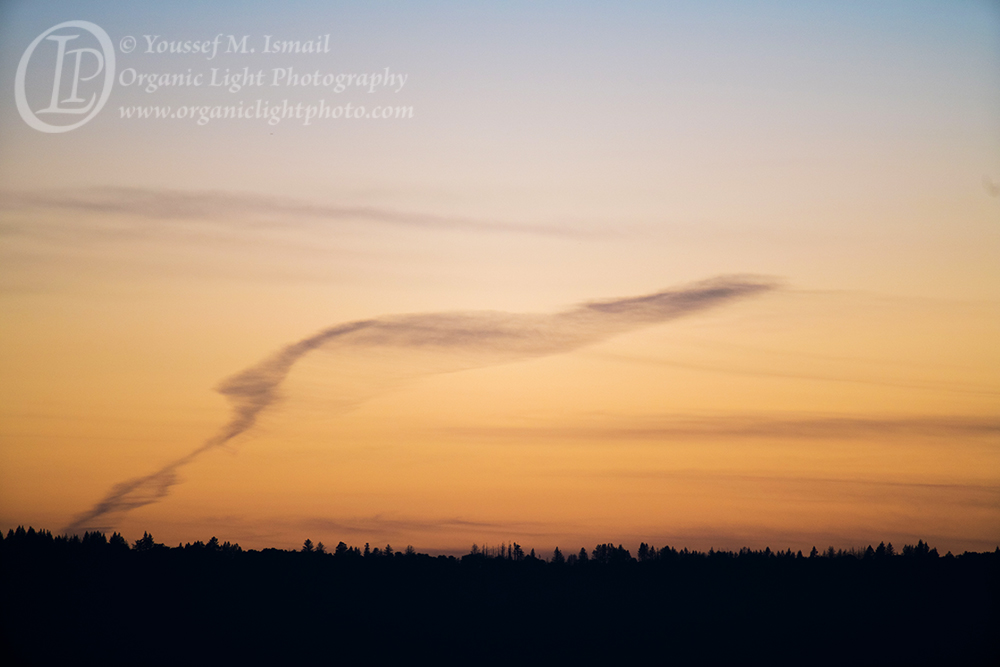 We saw nothing and it was not a surprise. What did surprise me was that reports from as far east as Texas and Louisiana were coming in with naked-eye reports. They seemed very incredulous given that the moon was only 0.6% illuminated in that part of the country with an age of 18 to 19 hours, we would have been finding near record breaking sightings. It was highly unlikely.
Then a report from San Diego, CA came in with 10 to 12 individuals sighting the moon but ONLY with binoculars. It was reasonable as that was what the probability maps were suggesting. Since I work with CrescentWatch to field reports and make monthly announcements of crescent moon sightings, we considered the report and inquired if any of the observers were able to see the moon with the naked-eye. The lead sighter reported in the negative. We at CrescentWatch did not accept the report as a valid sighting as CrescentWatch policy for a valid sighting requires a naked-eye sighting in adherence to the the Prophetic tradition of the Prophet Muhammad, peace and blessing of God upon him. The night was fraught with confusion however, because a second organization that CrescentWatch collaborates with, The Central Hilal Committe (CHC) did accept that report and announced the beginning of Ramadan.
Many mosques and organizations questioned the announcement and were surprised to learn that the CHC did accept optical aid sightings, as many thought they adhered to naked-eye sightings as well. Later that night, additional information was obtained from the San Diego group, a very large group numbering between 60 and 100 people, that there was one adult man who saw the crescent "for 1 to 2 seconds" and there were three adult women, one an experienced sighter, and two who were first time sighters, saw the crescent as well, but no details about what they saw was given. This seemed to placate many questioners and for many they fasted on Saturday April 2nd.
That report was fraught with doubt and so CrescentWatch did not accept the report and announced that Ramadan would commence on Sunday April 3rd, placing Saturday April 2nd as the infamous Day of Doubt, which the Prophet Muhammad, peace and blessing of God be upon him, said it was a day when fasting was not allowed.
I am not blaming anyone for fasting on Saturday, and hope that all efforts and fasts are accepted.
What is important is that every individual has established certainty for themselves before starting to fast. If those who fasted Saturday were certain the month had started then they are fine. And those who did not fast on Saturday because they were not certain, then they are fine as well.
But what prompted me to write this post, is that on Saturday evening after sunset I went out with my family again to sight the moon and this time we did see the moon. Here is what I saw and photographed.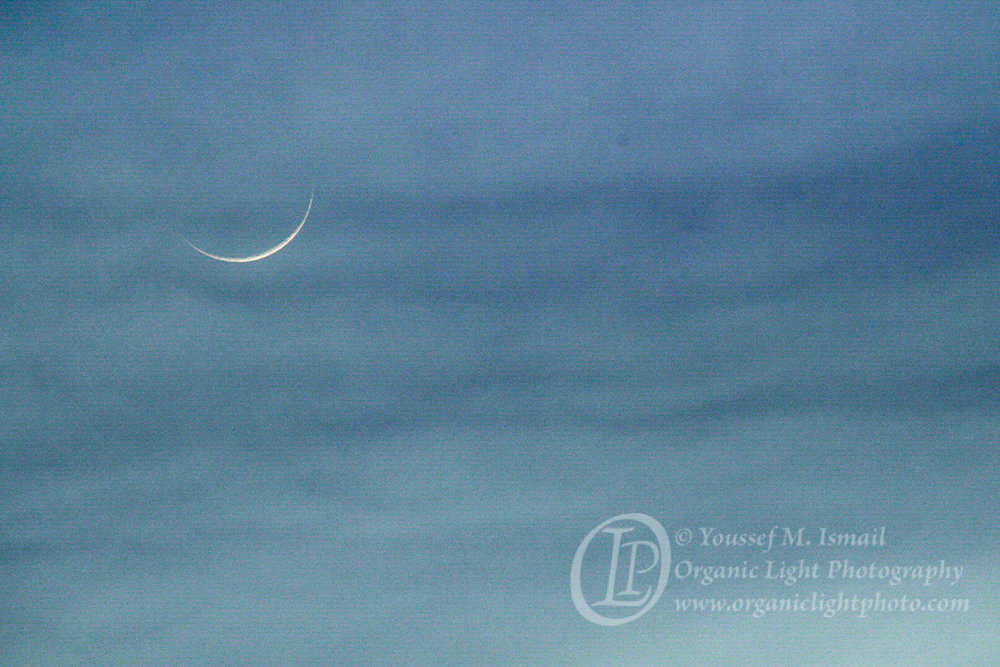 I posted it on social media and quickly people responded. For the most part liking and thanking me for posting it. However, some called it a Second Day Moon, by virtue of how big it is. This is the concern that I am writing about. This is clearly a first day moon and when I compare this moon with several other large first day moons, it makes me wonder what brings someone to make such a statement?
Here are other true first day moons as I either photographed them on the 29th or 30th day, and the day prior no moon was visible in the post sunset sky. Do they look similar?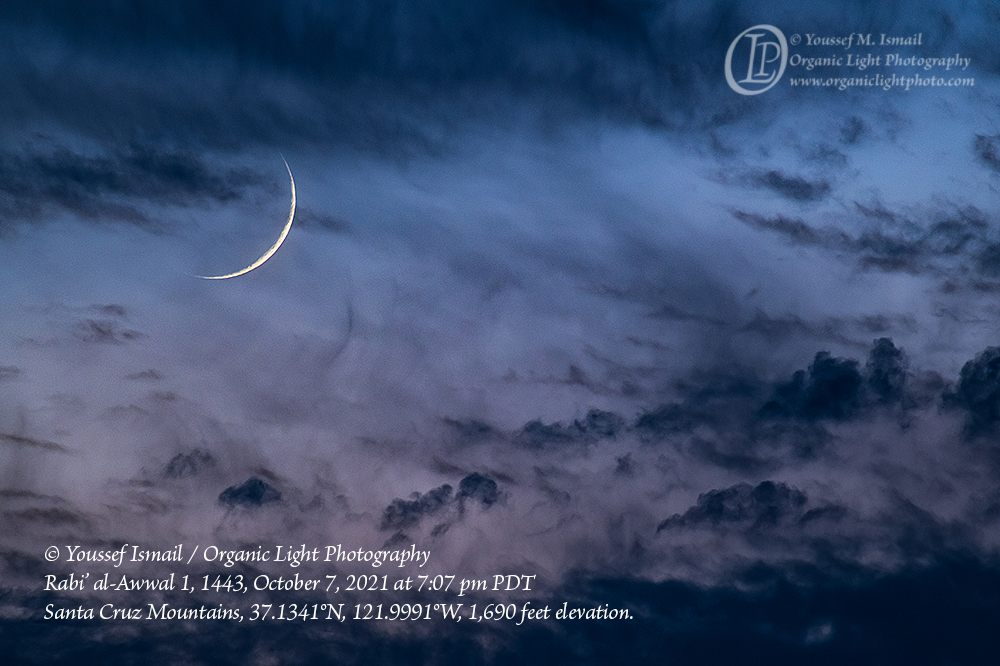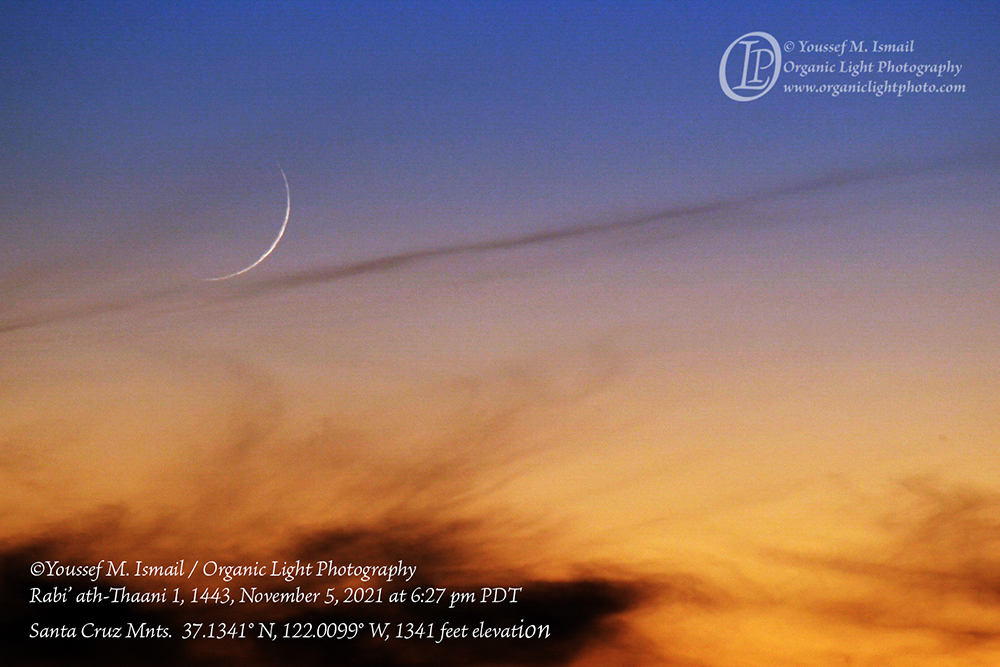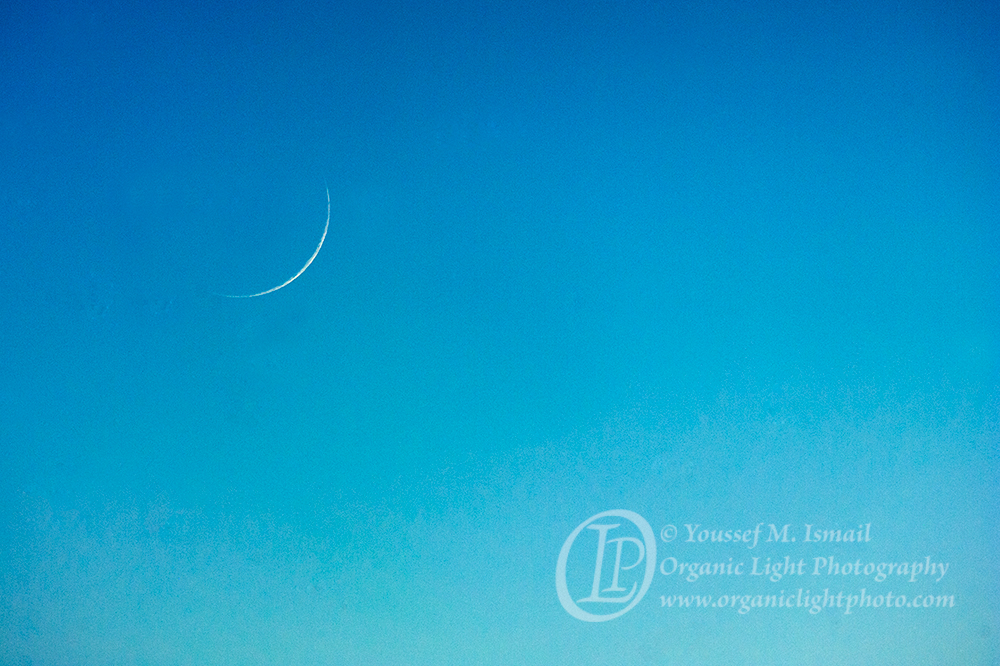 The following table shows the pertinent data for each of these first day moons
| | | | | |
| --- | --- | --- | --- | --- |
| Month and Year | Percent Illumination | Elongation | Age | Lag Time |
| Ramadan 2022 | 3.4% | 21° | 44 hours | 94 minutes |
| Rabi al-Awwal 2021 | 3.6% | 21° | 39 hours | 64 minutes |
| Rabi ath-Thaani 2021 | 1.9% | 15.75° | 28 hours | 48 minutes |
| Shawwal 2018 | 2.7% | 18° | 32.5 hours | 68 minutes |
How the crescent moon appears depends so much on where a person happens to be on the earth at the time of conjunction and at the sunset following conjunction or the day after that. The moon is not always visible on the day of conjunction, in fact more often than not, it is not visible on the day of conjunction. I also think those people who make such comments simply do not know what they are looking at and unfortunately expose their ignorance by saying things like "that looks like a second day moon", like they have seen and compared both first day and second day moons. How often does anyone go out to look at a second day crescent moon?
The Prophet Muhammad, peace and blessing of God be upon him, stated in one of his traditions regard the end days, that near the end of time, people would see a first day moon and claim it is a second day moon. This is frightening, as I have been hearing such comments for many years now.
What I recommend is that those who come out of the woodworks once or twice a year to seek out information regarding the start of the month, that they should make it a practice that they go out once a month and seek out the new crescent moon for themselves. Observe with their own eyes what a new crescent moon is and how its appearance changes from month to month. Experience the amazing and fulfilling moment when the crescent moon suddenly appears before their eyes as if it was brought into existence from non-existence by the Creator of all things.
Al-Hakim in his collection of hadith relates that the Prophet Muhammad, peace and blessings of God be upon him said, The best of God's servants are those who are vigilant in observing the sun, moon, stars, and shadows for determining the times of remembrance of God.
Only then do I think our vocal friends will find the temperance in their comments regarding the effort and struggle that the vigilant moon sighters make in keeping time.
I hope everyone of my Muslim readers, brothers and sisters, find great solace in the month of Ramadan, that they honor Ramadan by following the sunnah of the Prophet Muhammad, peace and blessings of God be upon him, and by virtue of their fasting find Forgiveness, Fortitude, and Felicity from God.
Peace to you all.
Leave a Reply