Organic Light Photography Newsletter - Spring 2006

Organic Light Photography Newsletter
Issue #10 - Spring 2006
© Youssef Ismail / Organic Light Photography - All Rights Reserved


Spring Light

What happened to spring this year? Winter here in the San Francisco Bay Area dragged on through March and even into part of April, dumping snow as low as 1,000 feet. It even snowed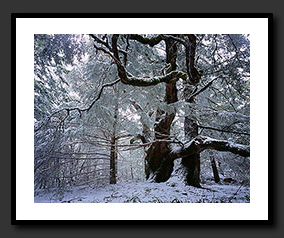 in the Santa Cruz Mountains and then suddenly it was hot, the mountains and grasslands turned yellow, and we found ourselves in sweltering in heat. It was as if the seasons just hop scotched over spring. A strange fluctuation in time that caused a prolonged winter and a short spring.

Before we could catch our breath, spring was hastily on its way and the flowers could not grow fast enough. Even though the usual places in California did not get much rain, the flowers were not going to let that stand in their way. The normal fare of flowers however did not make a show, and those that did were not as plentiful as in prior years.

The Antelope Valley, known for its expansive poppy blooms was nice, but it definitely did not live up to its fame. It also did not last very long and before we knew it, the flower petals were dried and gone. And like those flowers, I moved hastily from one springtime wildflower location to another trying desperately to salvage a spring.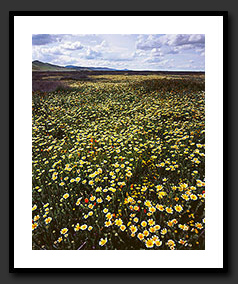 I next found myself in the Carrizo Plain National Monument where the flowers were displaying what spring is all about. On a Sunday afternoon during the Wildflower Workshop, I found myself racing across the entire length of the plain from the south entrance to the north, just ahead of a huge thunderstorm that loomed over the southern horizon. With dark ominous clouds and chilly winds, this storm meant business and seriously put photography into question several times as rain fell upon the windshield. At the near northern reaches of the plain, we made a stand at 7 Mile Road, a dirt road that becomes impassable with even the slightest amount of moisture. It was there that we stopped and worked. The impatience was welling up inside and it moved me from one area to another along the road looking for compositions to photograph. When I finally found an expansive field of tidy tips, mixed with poppies and some other varieties I set up the camera and began to focus it. Just as I was ready to trip the shutter and make my move to the next location post haste, the wind kicked up and sent all the flowers swaying, as if to say 'you think you'll photograph me that easily huh?' I found myself fighting my own impatience as I waited for the flowers to come to a rest. With Winter moving through sluggishly and not letting go with out a fight, I found impatience brewing inside of me for its end. And now with Spring moving to fast it swept us all along with it and in our rush to photograph the flowers it brought, I became to impatient to just wait out a small breeze!

Learning how to move at the speed of time: that is, finding a balance between haste and sloth, something that we call patience is really nothing other than living our lives at the speed of time. It seems like such a difficulty but in reality, it is not that hard. Everything is destined to occur when it is supposed to and nothing we do can bring a future moment in time to us any quicker nor can we do anything to slow time down. No one knows this better than one who has lived a long life. Something that occurred to me a few weeks ago while leading a workshop in Big Basin State Park in the heart of the Santa Cruz Mountains.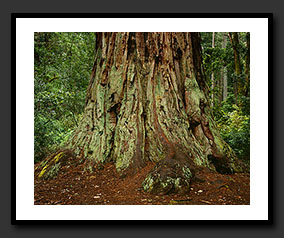 There in the middle of the forest was a tree that the park service had named the Father of the Forest. An ancient Sequoia Semperviren estimated to be older than 2000 years. With a girth of 70 feet at its base and towering more than 250 feet above the forest floor it truly did give the sense of standing at the foot of a great father. Its age most apparent from its shear size and wrinkled bark covered in moss. While other trees one-fourth its age or younger are found toppled over very near by, this tree stood firm. One cannot reach such an age without an immense amount of patience. Something the younger trees failed to learn from the 'Old Man' in their rush to uproot and just fall over. Patience is what allows one to grow old. It allows a person to live in the present, neither longing for the future nor sorrowing over the past, and to appreciate what one has from the many blessing we take for granted every day. It is truly humbling to think that this old tree waited all this time for me to come by to teach me the importance of patience. I can only hope that we as humans can learn to foster patience within ourselves so that we can live as peaceful a life as this ancient tree.

Peace to you all.
Youssef Ismail




Organic Light News





Expanded Services

After years in business of providing the highest quality photographs from the Organic Light Photography Studio, we are now offering that same quality to you. If you have the desire to have one of your own images (digital or film based) printed to the same exacting detail and quality that an Organic Light photograph is printed to then please download our Services PDF and Contact us.

In addition to that, we are also providing film scanning services and can scan both negative an positive (slide) film in sizes from 35mm all the way up to 8x10. Digital darkroom image editing is also available as well as file preparation for fine art photo printing and CMYK offset printing.

And once you do have your photograph printed, shouldn't you mat and frame it so that it will last a lifetime? Have the Organic Light Photography Studio archivaly mat and frame your photograph. We only use 100% acid free archival materials and we glaze using ultra-violet (UV) filtering non-glare acrylic and durable yet attractive aluminum frames.





Digital Photography Classes

This past spring term I had the great fortune of teaching two sessions of digital photography in collaboration with the Vista Homeschooling Learning Collaborative. The class was taught to their middle school aged students and consisted of classroom instruction on camera handling, exposure, metering, composition, color theory, digital image editing and digital photo printing. The students produced some very impressive photos in a short span of just 5 weeks! The second session was directed towards creating a photo essay and learning how photography can be used to effect positive change in society. Example photo essays were presented and the students formulated their ideas and proceeded to photograph subjects and themes that would make up their essay. Some were very thoughtful and provoking, some were hilarious, while some were very chic and others very emotional - all were exceptionally well done. The resulting essays were then combined in to a 22 minute DVD video and presented at the Collaborative's Middle School Graduation. The sudents impressed everyone with the exceptional work they produced.

If you would be interested in setting up a similar class, or think that your school district, or after school program in your area would be interested in running a similar class please Contact us and we can work out the details.




Did You Ever Wonder?

Have you ever wondered how some of the Organic Light Photographs were made?

Do have a camera ... like taking photos, but were somewhat disappointed with the results ... ?

Did you ever wish you could ask a Professional Photographer a Question about improving ... ?

...Here is your chance!

If you could ask a Professional Photographer just ONE question about how to CREATE a STUNNING PHOTOGRAPH what would it be?


Go for it ...


Click the link below TO ENTER in your question.

ASK YOUR QUESTION NOW!




Organic Light Website

New Photos From Spring

Be sure to visit the New Images page on the website and view some of the amazing and stunning color of the California Desert during Spring. Several new images have been uploaded from this year's amazing bloom. Also some unique images of the unusual late winter storms that dropped snow as low as 1,000 feet in and around the San Francisco Bay Area. In particular, Sole , is a very moving image of a Blue Oak in the hills of Pacheco State Park.

Two new photos have also been released as prints this past month. Beyond The Storm and At Low Tide both highlight the San Mateo Coast at low tide and the amazing fragility as well as the tranquility that is found at those times. Be sure to check those out.

And coming up in the next week or two, some stunning images from the top of the world! - well if you can call the Sierra Nevada the top of the world. So check in and let us know what you think.



Organic Light Workshops

2006 Workshop Schedule

So far this year we have conducted 3 full weekend workshops and 1 special one-day intensive workshop that have taken us from the deserts of California to deep in the coast redwoods to the top of the Sierra Nevada. If you have been yearning to learn how to use your camera to its fullest capability, or wanted to learn the techniques that will allow you to produce some award winning photos or you just wanted to find some beautiful photogenic locations with the aide of an informed guide, then you just might need to sign up for one of the remaining Organic Light Photography Workshops. The 2006 schedule is below. Just visit the Organic Light Photography Workshops page and register now!

March 31- April 3: California Desert Wildflowers - Completed
April 21 -24: Bay Area Spring Wildflowers & Redwoods - Canceled Due to Bad Weather
April 29: One Day Intensive - Gorman Hills Wildflowers - Completed
May 19 - 22: Redwoods & Seascapes -Completed
June 9 - 12: High SierraExcursions -Completed
July 14 - 17: Marin Coast & Headlands -Filling Up Fast!
August 18 - 21: Big Sur Coastline - Space Available
September 15 - 18: California Oak Woodlands - Space Available
October 6 - 9: Eastern Sierra Fall Color - Space Available
November 3 - 6: Autumn in Yosemite Valley - Filling Up Fast
December 15 - 18: Winter Trees of the Santa Cruz Mountains - Space Available




2006 Art Show Schedule

T his year's show schedule is shaping up very nicely. You can come and see new work as well as all your favorites at one of these local California art shows.

May 12-14: Stanford Spring Faire, Stanford, CA
June 3-4: Conejo Valley Art Walk, Thousand Oaks, CA
June 17-18: Marin Art Festival, Marin, CA
June 24-25: San Anselmo Art & Design Festival, San Anselmo, CA
September 29 - October 1: Italian Family Festival, San Jose, CA
September 16-17: Mill Valley Fall Arts Festival, Mill Valley, CA
October 15-16: Half Moon Bay Pumpkin Festival, Half Moon Bay, CA (Pending)

For more information visit Shows page on the website.

And hey don't miss me at the Campbell's Farmer's Market on Sundays in downtown Campbell when I don't have a regularlyscheduled show.

It would be great to see you all and even if you have run out of wall space, just stop by and say hello!




A Humble Request

Operating Organic Light Photography is time and capital intensive. It survives by you; my Patrons, Supporters and Friends. I am grateful that you have in the past helped Organic Light Photography with your purchase of one of my Fine Art Archival Prints or digital image for publishing or web use. My request is that you pass on this email to someone whom you think will appreciate Organic Light and would like to brighten their lives, homes, offices, or publication with some Organic Light. Your continued support and patronage is what keeps Organic Light Photography a viable source of beauty and inspiration to all and bread on my table.

I thank you for your continued support.

Enjoy the coming Summer!

Sincerely,
Youssef Ismail
Organic Light Photography
www.organiclightphoto.com


See The World in a New Light...
....Organic Light!


This newsletter is sent to Friends, Family, Clients, Subscribers, and other people who have had direct personal contact with our company. The list of subscribers remains a private and confidential part of our business, and you can be assured that your address is never made available to a third party under any circumstances. If you prefer to cancel your subscription to this newsletter, just let us know, and we'll be happy to accommodate your wishes. Unsubscribe






About | Gallery | Services | Techniques | Essays | Exhibits | Press | News | Links | Blog | Contact | Site Map




Copyright 2002 - 2023 Youssef M. Ismail / Organic Light Photography, all rights reserved. All photographs and essays are copyrighted to Youssef M. Ismail / Organic Light Photography, all rights reserved. No part of this site may be reproduced, stored, or transmitted in any form or by any means -- electronic, mechanical, photocopying, recording, or otherwise -- without the written permission of the copyright owner. To obtain said permission Contact Organic Light Photography


Web Hosting By 3Essentials