Sillhouettes

Silhouettes are an exciting way to portray a subject. Placed against a brighter back light, the foreground subject goes completely black leaving only a silhouette of the shape of the subject.

Leaving the camera to itself in auto mode will not render an exciting silhouette as the camera could be fooled by the darkened subject against the brighter back light and render the image to bright. To successfully make a silhouette, the back lighting needs to be metered carefully.

In the making of Sentinels of the Sun,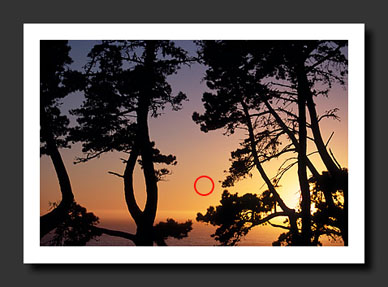 the sky was carefully metered (indicated by the little red circle) where its tone was beleived to be 1 stop brighter than middle tone. From that meter reading given by the camera, the exposure was opened up by one stop to keep that spot of the sky a light tone. It is very important that when this meter reading is taken, that the sun is not in the frame so that it does not effect the reading. LIkewise, if your camera has a spot meter, which only reads a very small portion of the toatl scene, usually about 3 degrees of the toatl angel of view, then it should be used. Now by metering in this way, it forces the sky to be light and the subject to be silhouetted will be several stops darker and will go compeltely balck.

The other aspect for good silhouettes is keep them as clean and uncluttered as possible. Allow the dramatic and colorful light in the background to come through. In Twilight Wlatz, the light from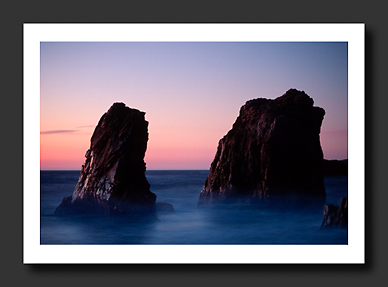 post sunset was brightest to the left of the two sea stacks and rendered this into a partial silhouette with the sea stacks receiving some highlighting. The composition was clean however to allow the wonderful color of the sky to really come through.



Was this article helpful?

Click Here and let us know.

Your feedback is important to us.








About | Gallery | Services | Techniques | Essays | Exhibits | Press | News | Links | Blog | Contact | Site Map




Copyright 2002 - 2022 Youssef M. Ismail / Organic Light Photography, all rights reserved. All photographs and essays are copyrighted to Youssef M. Ismail / Organic Light Photography, all rights reserved. No part of this site may be reproduced, stored, or transmitted in any form or by any means -- electronic, mechanical, photocopying, recording, or otherwise -- without the written permission of the copyright owner. To obtain said permission Contact Organic Light Photography


Web Hosting By 3Essentials